PICK A LIFE SAVIOR TRAIN AMBULANCE IN DELHI WITH ULTIMATE LIFE SUPPORT SYSTEMS
Delhi is the capital city of India and is center of political, governance, education and tourism in the country. Everyday thousands of people visits the city to avail medical treatments in hospitals like AIIMS, FORD, FORTIS and MEDANTA etc. MPM provides medical train escort services in Delhifrom across the nation. In fact we leverage the advantage of comprehensive network of Indian Railways and thus provide low cost train ambulance services in Delhi. The new LHB coaches of Indian Railways are spacious and provide better option for accommodation of ICU equipments, patient and Medical staffs. On the other hand these coaches are stable and noiseless at faster speed and helps in safe, comfortable and swift transportation of the patient.
RESPONSIBLE, RELIABLE AND IMPECCABLE MEDICAL TRAIN ESCORT IN DELHI BY MPM MEDICAL TEAM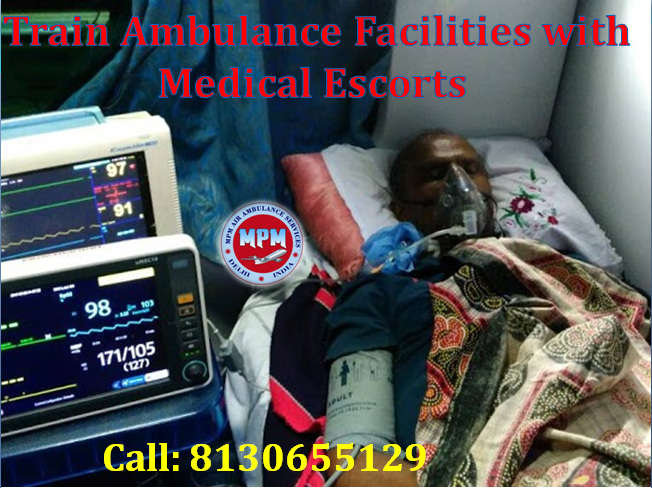 MPM is a dedicated emergency medical transport service provider in India with reputation of being the fastest train ambulance service provider in the country. We generally book an entire compartment of a reputed train like Rajadhani and Shatabdi Express and setup ventilator, respirator, oxygen cylinder, portable power supply, cardiac monitor and other vital equipments before departure of the train. One should take it under consideration that MPM Train Ambulance in Delhi and overall is highly dependent on the schedule of the Indian Railways.
Call our advisers anytime to book the cost-effective, comprehensive and Trustworthy medical train ambulance in Delhi now.
OUR MEDICAL ESCORTS IN TRAIN AMBULANCE IS AVAILABLE – CALL NOW FOR PATIENT SHIFTING IN ENTIRE INDIA